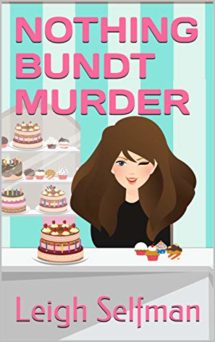 While trying to heal her broken heart, journalist Rosie Kale moves into her Grandma's beach-side guest house and takes a job at the hot new Bundt Baby Bakery. But when she and her boss cater a ritzy bridal shower, murder is on the dessert menu and the Bundt cake is blamed.

Rosie tries to find the real killer before she becomes the next victim.
But her senior sleuth 'helpers,' Nana and Birdie, are more interested in getting her married off than in the murder case. Unfortunately their prime romantic prospect–handsome real estate mogul Casey Baron–is also her prime murder suspect.

"Nothing Bundt Murder" is a fun, clean, cozy mystery with cats, cupcakes and a dash of romance. Though it is part of a series, it's a standalone mystery.
NOTHING BUNDT MURDER